Pioneer in ultra thin packaging
Founded in 1822, the Bolloré Group is among the 500 largest companies in the world.
A publicly traded company, it is still in majority controlled by the Bolloré family. The stability of its shareholding structure allows it to make investments for the long term.
Due to its diversification strategy based on innovation and international development, it currently holds strong positions in following business activities: transportation and logistics, media and communications, electricity and storage solutions,  and in industry with its ultra thin shrink films Bolphane® and Bolfresh®.

Number of employees over the world
Turnover in Euros for 2014
The Plastic Films Division
Leader in ultra thin shrink films
Historically based in Brittany, the Plastic Films Division is specialized in the production of ultra thin packaging shrink film and dielectric film for capacitors.
Situated in Ergué Gabéric, a small town close to Quimper, the Pen Carn production site is a modern state of the art production facility.
A high level of technical know-how in combination with the application of the latest generation high-tech resins make that Bolloré has become very quickly leader on the market of technical and multilayer films.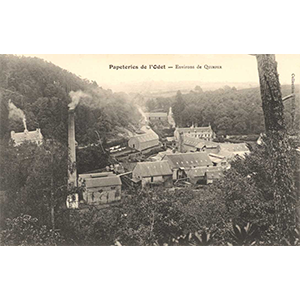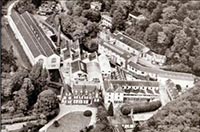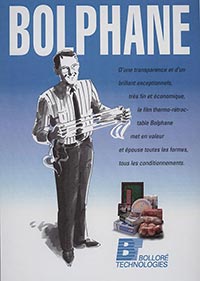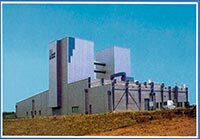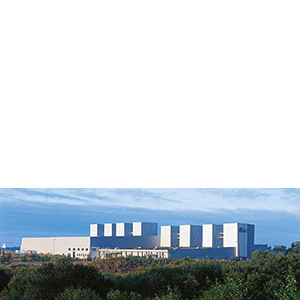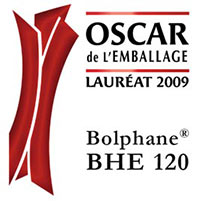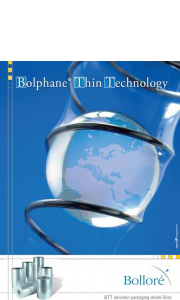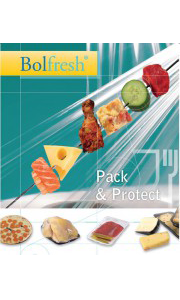 1822
Naissance des Papeteries Bolloré, près de Quimper (France), spécialisées dans la fabrication du papier à cigarettes, papier "copie de lettre", papier "bible" et papier carbone
1969
Fabrication de film diélectrique pour condensateurs
1983
Démarrage de l'activité films rétractables Bolphane®
1996


Inauguration du site de production de Pen Carn
2006
Augmentation continue des capacités de fabrication
2009
Bolloré innove avec le Bolphane® BHE120, premier film thermorétractable polyoléfine 9 microns 100% recyclable.
2011
Lancement des films Bolphane® BTT, caractérisés par leur extrême finesse
2013
Lancement de la gamme Bolfresh®, films dédiés aux applications alimentaires